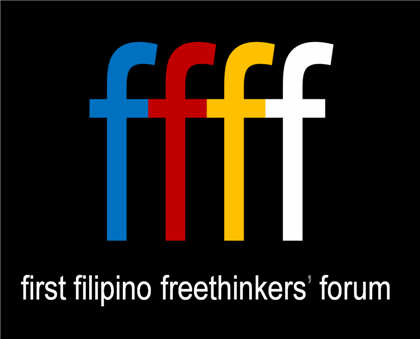 U-View, Fully Booked (28 February 09) - The
First Filipino Freethinkers Forum
kicked off with
Red Tani
's thoughts on the difference between freethinking and un-freethinking and took it further within the context of reason and science. He also proceeded to discuss theoretical freethinking and practical freethinking, emphasizing that practical freethinking embodies integrity.
After a game of "Identify the Freethinker",
Freethought Offline
starting off with
John Paraiso
's presentation on
Freethinking in the Grassroots
. He spoke of the perception that freethinking is not for the poor. Such view is belied by the pragmatism of the poor and that "truth is something they just need." John also shared his experiences in the proletarian arenas in Luneta and Plaza Miranda in Quiapo. He even brought along a copy of the maiden issue of Freethinker, published in July 1999.
During the open forum that ensued after,
Dr. Sylvia Estrada-Claudio
shared her experience with freethinking in communities, particularly in the alternative manners of organizing. The most recent of which was in mobilizing support against the Reproductive Health (RH) Bill. Sass noted that "sometimes, freethinking can be a luxury," to which John replied that freethinking is not an alternative to hope, freethinking is an alternative to thinking. Sass then cited the El Shaddai phenomenon and the rise of Bro. Ely Soriano and argued that people go to them because they are inspired. John explained that "tangible solutions" – not hope – is the best gift to a poor man.
The discussion cited as an example the current RH debate. The issues that have deterred the passage of this proposed legislation are not actually issues of morality but church dogma. A Freethinker, in the choice between dogma and reality, could see thru dogma – for freethinking "is not about revolutions, just a challenge to think."
One forum participant stressed that freethinking in the grassroots has always been a challenge because it is in a community-based area. He also offered a commentary on the country's education system and said that it is sadly "plagued by religious dogma". To address this, he said that drastic changes must be made that genuinely embodies secularism. Another cited the experience of the Karl Sagan who accessed freethinking resources thru public libraries. Such underscored that perhaps one of the solutions offered by freethinking is personal ethic, to act without hope.
The next talk was on
Secular Humanism
by Geri Villas. He began by presenting a definition of freethinking as an umbrella term encompassing "reason and critical thinking independent of dogma and authority." He called attention to "free" – which did not mean absolute freedom. Secular humanism, on the other hand, refers to the "humanist philosophy that upholds reason, ethics, and justice and specifically rejects the supernatural and the spiritual as basis of moral reflection and decision-making." The first term "secular" was supposedly used to distinguish this humanism from religious humanism.
The presentation noted that key to the foregoing definition would be the faculty of reason. As raised in the previous talk, freethinking is actually a "thinking habit". Necessarily, it subscribes to Naturalism where everything can be explained. Jerry then proceeded to distinguish atheism and secular humanism. Atheism is premised on the non-belief in the existence of God, while secular humanism "goes beyond rejecting." The latter is not "anti-religious", save perhaps when religion is used to influence public policy or governance; it "promotes and defends scientific outlook and rationality; it has remained staunchly sceptic to religious claims of divine truth; and is "committed to free inquiry in all human endeavors."
In various studies, the most recent of which was Gallup Poll which was conducted from 2007 to 2008, five percent (5%) of Filipinos believe that religion is not important. However, the supposedly secular educational system ensures that this mindset is addressed. As a case in point, out of two hundred fifty-three (253) secondary schools, an overwhelming number (143) are Christian institutions, 53 are controlled by the Roman Catholic Church and only 57 are dedicated to a science-based curriculum.
Jerry ended his talk with a comparison of the respective Preambles of our Constitution and that of the US Constitution, primarily on the any reference to God and the optional teaching of religion.
The third talk was on
Science and Freethinking
by Maria Isabel Garcia of the Philippine Star. She started off with a caveat that the relationship between science and freethinking "not be what [we thought] it is." She reminded the participants that science is "limited by data and method". In other words, "freethinking cannot be freewheeling in science" – it would have to be "discovery with an open mind". She emphasized that science is "too important to leave to scientists alone". She added that many of issues now have a science component. [Aside, I particularly liked that slide of an endangered panda – or was it a bear? – which had this caption: "One last look before we say goodbye."]
Ms. Garcia also underscored the paradox of science: we understand more and yet, the more we are overwhelmed by the things we do not know. She also spoke about the so-called "science worship" for "science rationality" is not all there is to a complete mind [just as her slide noted:"There is no one way to walk the earth."]
She ended by reminding us of some lessons that she has learned:
• Rational thinking is only a layer of thought of the complete picture. It is perfectly okay to hold contradictions in your head.
• Don't be consumed by god/religion issues. Energy is finite...Leave the logistics of eternity to eternity. [That is a personal favorite.]
• Live. Fully.
In the discussion that ensued, she cautioned against labelling and that labels can have a life of their own. Thus, atheists and agnostics may very well be "jailed by dogma" themselves. Sass asked for a clarification on two points: (1) If science can explain the "physical" – when does the "physical end" and what happens after; and (2) What is the status of science in the Philippines? Ms. Garcia replied that by "physical" what is meant are things that are measurable and may be reviewed and for the second question, science in the Philippines is – and this is putting it kindly – bad. She says movements like Cafe Scientifique are trying to address this sad state. As a sidebar, she happily informed us that Cafe Scientifique will have an affair come April, also at Fully Booked, that will feature Steve Jones.
One participant enthused that "there is poetry in science" but Ms. Garcia added that this enthusiasm for science is apparently lost when children enter the fourth (4th) grade, when the supposed rigors start. Finally, she reminded us that we should never engage in any debate on dogma with our families for we would be "talking of different currencies." But when dogma gets entangled in public policy, then she urges us to "rage as much as you can."
Dr. Estrada-Claudio followed with a presentation on
Freethought and Politics.
She immediately attacked the campaign of the Roman Catholic Church against the RH bill. She cites the lies that the Church allegedly used to discourage the use of condoms. Recalling a public hearing on the RH bill where she was asked about the side-effects of contraceptives, she wondered how she can make our lawmakers understand that "all medicines have side effects."
She also discussed how politics breached embryological science by attempting to declare with an air of infallibility that "life begins upon conception."
Benj Espina
wrapped up the afternoon with his talk on
Free Thought and New Media
. He likened the Forum as part of the learning that will progress to that "light bulb" moment. The bigger question, however, is
quo vadis?
To this, Benj suggests that we take the next step and commit to continuous learning. These steps can range from joining a mailing list, an online forum, and perhaps even create our own weblogs.
Finally, Red told us about the daydreams of cat herders. I cannot think of a better way to put it. Our Freethinkers have successful herded the strays. And Red is right, "the best cat food is community."